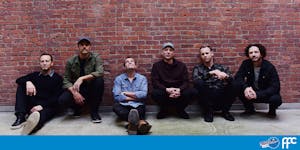 Presented By Nitefall On The River
Umphrey's McGee
Brenton Plaza
Des Moines
,
IA
DOORS: 6:00 PM // SHOW 7:00 PM
We remained hopeful that we might be able to perform shows this summer, however due to the constantly changing realties surrounding the Covid19 pandemic, we are postponing all August dates to 2021. All tickets purchased will be valid for the 2021 dates, however refunds will be made available via the original point of purchase.
We look forward to rocking with you once more. Until then, be safe and take care of each other.
About Umphrey's McGee
The music of Umphrey's McGee unfolds like an unpredictable conversation between longtime friends. Its six participants—Brendan Bayliss [guitar, vocals], Jake Cinninger [guitar, vocals], Joel Cummins [keyboards, piano, vocals], Andy Farag [percussion], Kris Myers [drums, vocals], and Ryan Stasik [bass]—know just how to communicate with each other on stage and in the studio. A call of progressive guitar wizardry might elicit a response of soft acoustic balladry, or a funk groove could be answered by explosive percussion. At any moment, heavy guitars can give way to heavier blues as the boys uncover the elusive nexus between jaw-dropping instrumental virtuosity and airtight songcraft.

The conversation continues on their eleventh full-length album, it's not us [Nothing Too Fancy Music]—which was released January 12, 2018.

"It represents the band, because it basically runs the gamut from prog rock to dance," says Brendan. "We've mastered our ADD here. The record really shows that."

"No matter what you're into, there's something on it's not us that should speak to you," agrees Joel. "This is a statement album for Umphrey's McGee. The sound is as fresh as ever. The songs are strong as they've ever been. We're always pushing forward."

It is also how the band is celebrating its 20-year anniversary. Instead of retreading the catalog, they turn up with a pile of new tunes.

Venue Information:
Brenton Plaza
520 Robert D. Ray Dr
Des Moines, IA, 50309