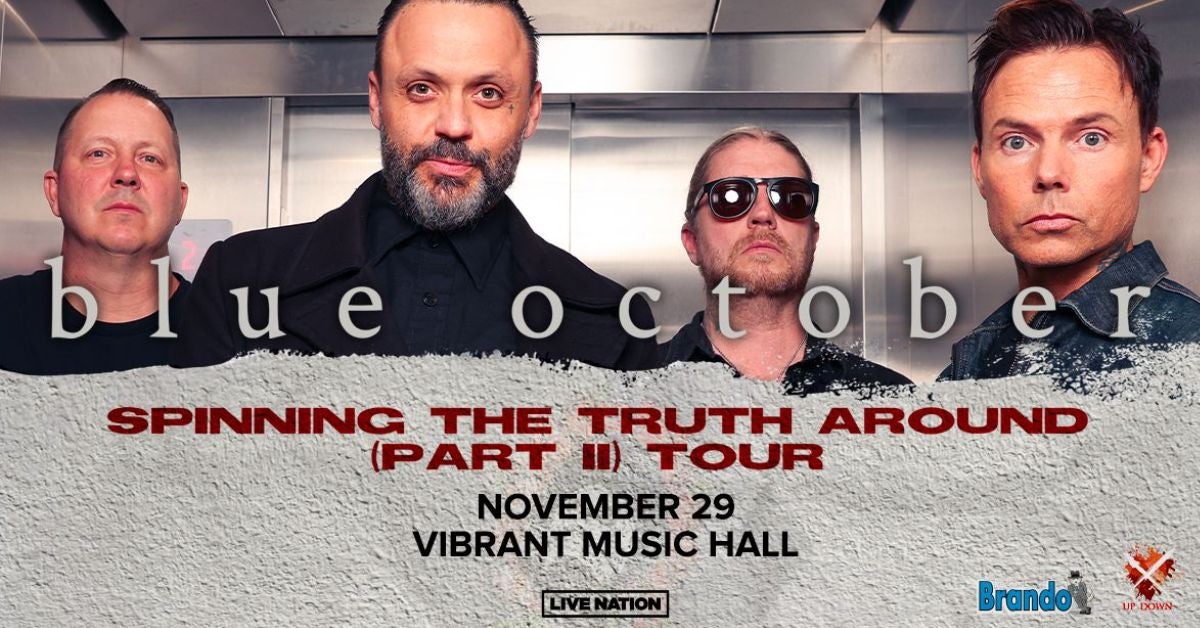 Presented By Live Nation & First Fleet Concerts
Blue October
Date

Nov

29

, 2023

Event Starts

8:00 PM

Venue

Vibrant Music Hall

Doors Open

7:00 PM

On Sale

On Sale Now
Event Detail
Rather than lean on destiny for direction, Blue October invents and inhabits a future all their own. The platinum-certified alternative quartet from Houston, TX—Justin Furstenfeld [vocals, guitar, songwriter], Jeremy Furstenfeld [drums], Ryan Delahoussaye [violin, mandolin, piano], and Matt Noveskey [bass]—consistently evolves with an outlier perspective. For their eleventh studio album and first double-LP, Spinning The Truth Around: Part I & II, Blue October unlocks another creative renaissance.
"We feel like we're at the height of our craft," states frontman Justin Furstenfeld. "The album is romantic as fuck. The lyrics are universal and poignant, but we're showing the songs can stand alone instrumentally. We know the sound we want."
The original creative core of Blue October found some new inspiration, as Justin immersed himself in the work of J Dilla. He wrote at a feverish pace at his own Up / Down Studios in San Marcos. Similar to the early days, the record is a band collaboration.
"Ryan is such a great string arranger," Justin notes. "I'd sample strings and detune them on the Akai. If you have a great drummer like Jeremy, Matt on bass, two overhead mics and a SM57 in the kick drums, add strings, some romantic piano and profound lyrics, you can find yourself some magic."
Such magic courses through the first single "Spinning the Truth Around." Keyboards glimmer beneath a glitchy beat as his voice echoes with longing on the hook, "I don't want change, we both want more."
"The feeling of the song is bittersweet like a sunset," he observes. "It's beautiful when it's shining and sad when it's gone. You're grateful that you got to be a part of it."
A lifelong theater student, Justin began studying at the "Fame" high school of Houston, HSPVA, where he met bandmate Ryan Delahoussaye. In September 2023, Furstenfeld will make his feature film debut in the action movie, Section 8 (in theaters and AMC+), alongside Dolph Lundgren, Mickey Rourke, Dermot Mulroney, and Ryan Kwanten. He recently wrapped his second film Lights Out, featuring Frank Grillo, Mekhi Phifer, Scott Adkins and Dermot Mulroney.
Elsewhere on Spinning the Truth Around Part 1, warm strings wrap around a piano-laden groove on "How Can You Love Me If You Don't Even Like Me." The cinematic soundscape offsets Justin's biting lyrics with oddly sweet whimsy. Alternating tempos in a hip-hop cadence, his delivery barely cracks a whisper, preserving the mood. On the other end of the spectrum, "Where Did You Go I'm Less Of A Mess These Days" recalls a flurry of memories starring an old friend over an upbeat bounce with candid lyrics, "You said you love the way I sing 'cause it's depressing as fuck." Then, there's "The Girl Who Stole My Heart." Sparse orchestration sets the tone for a heavenly catharsis punctuated by a swooning refrain.
The album culminates on "Big Love." It holds a special place in Justin and Jeremy's heart, as their father listened to it during his chemo treatments. The song's crescendo unfolds with a lush and luminous last word, "Just keep your face turned to the sun. We're proud of all that you have done."
"Love, for me, has been set on high standards," he admits. "When my father passed away during the pandemic, we were allowed in the room for twenty minutes. I watched my mom comfort him. In his final moments, I could see him relax. For three years, she took him to chemo. He listened to 'Big Love'. The only thing my brother Jeremy and I could do was write a song for him and send him messages. A love like what my parents had is what I hope for everyone. They could communicate openly. They showed me how easy it should be. There's a loss, but there's a spirit that says, 'Hey, hey, you're good'."
In the end, Blue October might just remind you of the same thing.
"This album is about boundaries and love—selfless love," Justin leaves off. "You know that even if you did love someone it's okay if you both fall out of love. It's the story about a loving relationship that changed, when the world was falling apart. Nobody had a rule book. You don't have to end a relationship and hate each other. Life is so short. There is love out there."
Blue October History
Since 1998's The Answers, Blue October has been touring the world with a boundless approach, generating north of 1 billion total streams and charting 16 hits. In 2006, Foiled earned a platinum certification and yielded signature anthems "Hate Me" and "Into The Ocean," kicking off a prolific streak. In addition to six consecutive Top 30 album debuts on the Billboard Top 200, they scored three straight #1 entries on the Top Alternative Albums Chart with Any Man In America [2011], Sway [2013], and Home [2016].
Speaking to their sustained influence, 2018's I Hope You're Happy has become one of Blue October's seminal albums. The title song "I Hope You're Happy" vaulted all the way to #14 on the Alternative Chart, and is still one of their most popular streaming songs. 2020's This Is What I Live For bowed in the Top 20 of the Top Rock Albums Chart and spawned a radio hit with "Oh My My," garnering a Top 10 single at Alternative Rock Radio their first Top 10 since 2009 with over 10 million-plus streams.